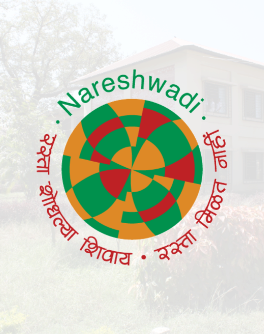 Story on logo
In July 2007, team Nareshwadi Learning Center (NLC) held a series of workshops with all stakeholders to articulate the vision, mission and the values together, as a community.
One of the workshops done to develop NLC's logo had all 500 Nareshwadi children from the 1st to 10th standard participating. When asked what they miss most about Nareshwadi when away from school, children spontaneously responded:
"Teachers, school building, hostel, coconut trees, children playing, water pump, even toilets, milk van, chikoos!."
Logo Finalized
The 500 drawings of the proposed Nareshwadi logo revealed not only huge creativity but also appreciation for the improvements in the school over the past decade or so. Sixteen drawings were short listed and awarded by a committee of children and staff. The first prize went to 12-year old Jitesh Bhavar, who added a motto to his drawing of a maze: "Only if you look for the way will you find it."
As Jitesh says: The logo shows Nareshwadi as a labyrinth, where we have arrived and have to find our own way to our future. Nareshwadi helps us find the way.
To this day, Jitesh's prize winning entry is GVET's official logo.
Since 2007, NLC Accomplished:
Higher Enrolment of girls :

Through counselling of families NLC enrolment for girls has gone up from 22% in 2006-07 to 49% in 2018-19.

Traditionally, tribal girls would be taken out of school on reaching grade 7 to marry even before they turned 15 years. NLC's safe residential facilities have encouraged more parents to let their daughters complete their matriculation.

With sponsorships from Somaiya Vidyavihar, more girls are aspiring for higher education delaying marriage and motherhood.

Improvement in Academic Performance:

The pass percentage at the Secondary School Board exam in 2005-06 was 13%. With improved teaching-learning methodologies the pass percentage reached 90% in June 2017-18.

Beginning 2007 until now teachers received training in improved teaching-learning methodologies from leading organizations such as :

With sponsorships from Somaiya Vidyavihar, more girls are aspiring for higher education delaying marriage and motherhood.

Science Awards :

Students are encouraged to go beyond the standard curriculum and extend their knowledge and skills. Every year students win Awards not only at the block level but also show-case their projects at the District level.

In 2011-12 Sridevi Kumbhar, a 7th grader, received the Inspire Award from the Ministry of Human Resource Development. The award was to promote science in schools.

Sridevi's project on the banana plant titled "Kalpavrksh" ("The Miracle Tree") was one of two projects (out of 80 from local schools) selected to compete at the state level.That same year Chandani Tiwari (7 grade) presented her project on the Moringa (Drumstick) tree and was selected to represent Dahanu Taluka at the district level. They were awarded certificates.

Both projects inspired students of the 7th and 8th grade to take up the Banana Project and Moringa Project respectively in 2018-19.

Excellence in Sports :

Several girls and boys compete at the Taluka, District, Divisional, State and even National level in athletics, kabbadi, kho-kho, langdi, throw ball, taekwondo and basketball.

Six girls and 2 boys were selected to play in the national team for langdi at the Asian Langdi Championship held in Pokhara, Nepal in January 2018. The girls' and boys' teams won the championship respectively and were captained by players from Nareshwadi.

NLC children participate in various competitions and have performed well every year. They train every morning and evening and are given additional nutritional supplements to improve strength and stamina.

The installation of the semi-professional multi-sports surface in 2017 with a generous donation makes it possible for children to play games like throw ball, volley ball, roller skating, taekwondo etc.

Coaches from the Somaiya Sports Academy conduct quality coaching for NLC children on a regular basis which has tremendously helped the children hone their skills and reap benefits in competitions.

Improved Health through 24-hour Health Care :

A 24-hour School Health Centre was set up in 2007 with support from ANZBAI (Australian & New Zealand Business Association in India, Mumbai).

This has resulted in reduced absenteeism at school and drop-out rate due to poor health. Health checks are done per school term. In 2007 almost 98% children had scabies. Barely a handful of children suffer from scabies today brought in by new enrolments, which is quickly treated and not diet which does not include green vegetables.

This was addressed with Vitamin A and improved diets comprising fresh vegetables. A database is in place to track the health of each child.

Improved Health through Nutritious diet :

Nutritious menus are planned based on seasonal vegetables cultivated in the School Farm.

The 2-acre School Farm supported by NautaDutilh, Brussels for 3 years starting 2009 produces a regular supply of fresh vegetables and bananas for the school kitchen. Children now have fresh vegetables as part of their diet.

NLC also conducted workshops for the mothers and distributed seeds and saplings to develop kitchen gardens.
They now grow a variety of vegetables to augment the traditional diet of rice and lentils.
In 2018 Rotary Club of Mumbai Queen's Necklace refurbished the school kitchen. New kitchen equipment like idli maker, pulverizer, dough maker were installed and children have idlis with moringa sambar for breakfast along with a variety of dishes planned by a committee of students and staff.